Other things besides soccer
With the Jewish holidays this week and the push to the playoffs, work has kept me from commenting on the big happenings this week: Metros dropping Bradley after the Metros completely tossed in the towel against D.C., Freddy's now-that's-what-I'm-talking-about goal and the rumors of the Siginator taking over in Cowtown.
I'll get to those, I really will.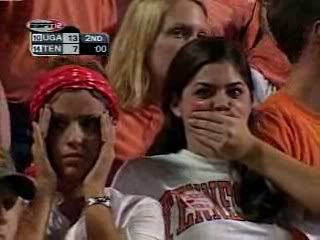 But this weekend is Georgia - Tennessee. I know it's not soccer, but I'm so psyched for this game. And that it dovetails nicely into a night of MLS action (I really want to see the Metros - United game and see if the Metros really do look different under Johnston or if Wednesday was an illusion).
But it's Tennessee. I can't wait for us to smack to hose slack-jawled hickolian hill people back to from whence they came. Which won't be a far walk since we're in Knoxville for this one.
C'mon, Hunker Down You Hairy Dawgs!
(As an aside, this is what MLS needs and what it will get with time. I had this conversation with
D
(and, seriously, can I call you something other than D?) that what MLS needs is sports-hate. If someone terrorist attacked Tennessee, I'd be all for sending in troops to help cleanup ... after I thought about it for a second or two. MLS will get that, but it just takes time. I know they'll be a time, hopefully soon when they're good, where RSL fans will truly hate going up against the Rapids -- and TV won't be able to ignore it. Though Kroeneke might be able to, since Alteetude has ignored the 'Pids all season anyway. This is a really long parenthetical.)